Occasionally, I get asked how SPEasyForms can be installed in a farm where Sandbox solutions have been disabled by the farm administrators. This blog post will provide instructions for how to do just that. This blog post will talk specifically about installing SPEasyForms v2015.06, which is the latest version as I'm writing this, but if you're trying to install a later version as you're reading it you will have to adjust the paths to point to the newer versions of the files.
The first thing you have to do is get the files. Go to the downloads page on https://speasyforms.codeplex.com: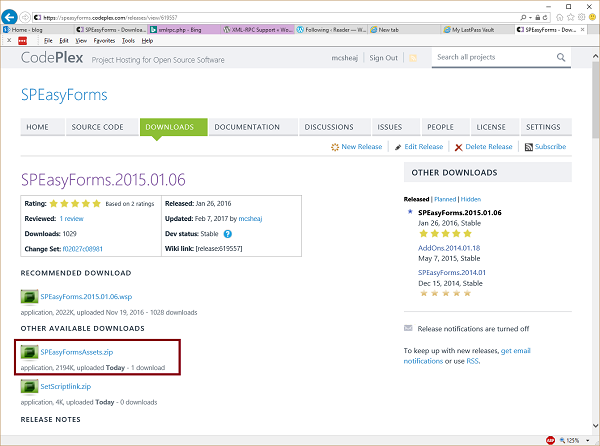 Assuming you don't already have the files on your SharePoint site:

Click on the SPEasyFormsAssets.zip download and save it to your computer.
Unzip the file (you should have an SPEasyFormsAssets folder with a bunch more folders and files inside of it)
Copy the entire SPEasyFormsAssets folder to the Style Library in the root web of your site collection. Explorer view works best for this. Your SPEasyFormsAssets folder should already contain SetScriptLink.aspx, so you can skip the next small section.
Alternatively, if you already have the SPEasyFormsAssets folder all setup:

Click on the SetScriptLink.zip download file and save it to your computer.
Unzip the file (you should have a single file called SetScriptLink.aspx)
Upload that file to the SPEasyFormsAssets folder in your Style Library
Configuring SharePoint to Load SPEasyForms
Go to your SPEasyFormsAssets SharePoint folder in the browser.
Click on the SetScriptLink.aspx file. You should see something like this: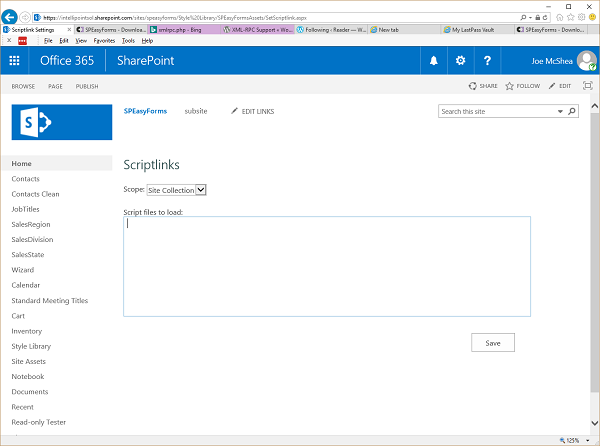 In the large text area, enter the following exactly:


~sitecollection/Style Library/SPEasyFormsAssets/2015.01.06/JavaScript/jquery.bundle.min.js
~sitecollection/Style Library/SPEasyFormsAssets/2015.01.06/JavaScript/jquery.SPEasyForms.min.js
~sitecollection/Style Library/SPEasyFormsAssets/SPEasyForms_DefaultSettings.js
ScriptBlock=spefjQuery(window).bind('load', function() { spefjQuery.spEasyForms.init(); });


Of course, when I say exactly, you still have to change the version numbers in the path if you're installing a different version than me.

Click the save button. You should get a dialog popup in a second or so telling you it was successful.
SPEasyForms should now be working on your site, with one limitation. This script does not install the SPEasyForms button on the ribbon. You can still get to the editor for a given list, but you have to go to the list settings page for the list and hit the SPEasyForms Configuration link.
Uninstalling
You can uninstall SPEasyForms from the SetScriptLink.aspx page as well. Just clear out the text area and hit save and it should remove all of the script links that it added.